Food is a type of magic that human beings both enjoy and depend upon for survival. Food brings loved ones together at the same table, where everyone is able to share life, indulge in conversation, and even burst into laughter together. Every family has its own homemade dish that tastes just like home, touching the softest spot of one's heart.

As a dedicated Chinese learner, I'm sure you're wondering how authentic Chinese foods taste and about the culture behind them. In this article, we'll introduce you to several popular Chinese dishes you should try—and we'll even teach you how to make some easy authentic Chinese food on your own. Make sure you stick around to learn all of the Chinese food secrets you've been curious about!
Table of Contents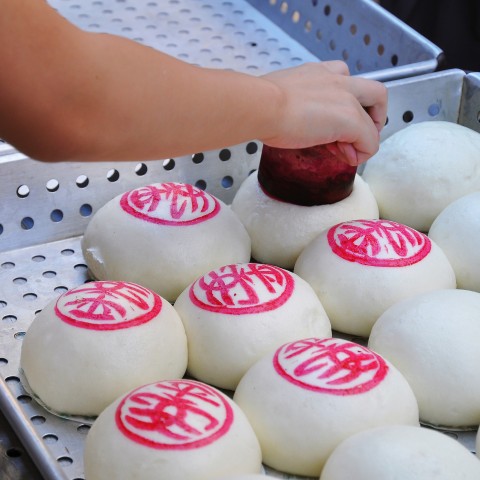 Chinese food can be fascinating—like these Chinese buns with a red stamp on top!
1. Must-Try Dishes in Chinese Restaurants
Here's a brief list of Chinese foods you need to try next time you're at an authentic Chinese restaurant. Warning: You'll be hungry by the time you finish reading about these delicious dishes!
A- Hot Pot – 火锅 (huǒ guō)
Hot Pot is a Chinese food staple that represents the culture of eating together. Everyone sits around a pot prepared with a simmering soup stock, in which people can boil a variety of meats and veggies they have on hand. This is one of the best Chinese comfort foods, especially on a chilly day.
B- Dumplings – 饺子 (jiǎo zi)
You're probably familiar with dumplings, as cuisines from many regions of the world feature some kind of dumpling. Chinese dumplings are another staple of homemade Chinese food—they're so important that they're usually served as the entree for Chinese New Year. In general, dumplings are made with dough wrapped around a filling of minced meat.
C- Mapo Tofu – 麻婆豆腐 (má pó dòu fu)
Mapo Tofu is a famous spicy dish that originated from Sichuan cuisine. You've probably heard of it before, as it's a popular dish overseas. The word 麻 (má) almost indicates a taste of numbness, which is a unique taste produced by the Sichuan peppercorn, combining perfectly with its spiciness.
D- Dim Sum – 早茶 (zǎo chá)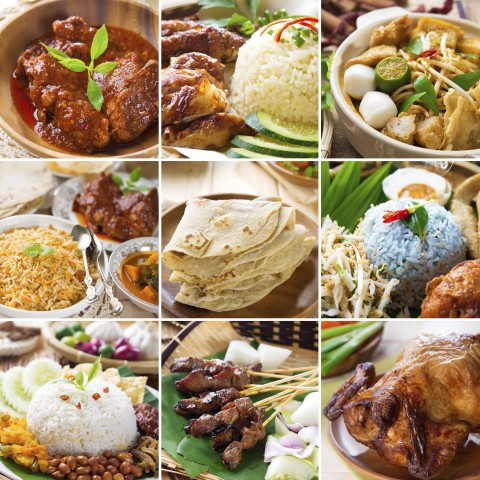 Does it make your mouth water when there is a variety of delicious foods to choose from?
A unique facet of Chinese cuisine, Dim Sum is not a dish; rather, it's a style of serving food that originated in Canton. In Dim Sum, a variety of bite-sized food portions—ranging from meat and veggies to dessert items—is usually served with tea. Servers usually push a table of these foods around to ask which one you would like to try. Dim Sum is a great (and cost-effective) choice if you want a variety of food that you can share with many people.
E- Congee – 粥 (zhōu)
Congee is one of the most popular Chinese comfort foods, and it can be either sweet or savory. Serving as the base of this dish are grains that have been boiled down and simmered into a dense soup. People sometimes like to add meat and veggies to make it savory, or some sugar to make it a sweet treat. This is also a very healthy Chinese food as boiled grain is easy to digest and warm for your stomach.
2. Authentic Chinese Food vs. Overseas Chinese Food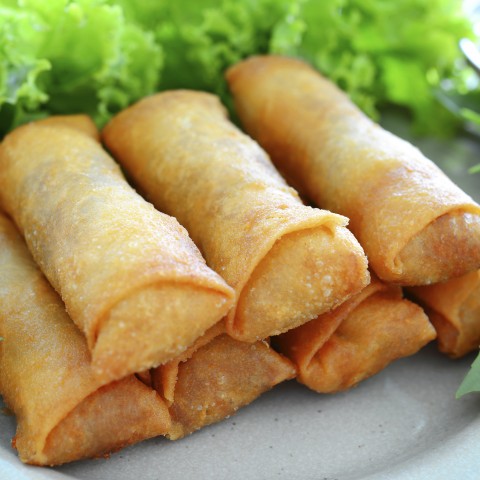 The famous overseas Chinese spring roll may not be that famous in China!
If you're ever looking for your hometown food in another country, I bet there will come a point when you're dumbfounded with the localized food there and cry internally, with pride: "This is not what my home tastes like!"
Similarly, Chinese cuisine dishes that have reached other countries are far from being authentic. 
Here are just a few Chinese foods that are not typical in China:
Orange chicken
Chow mein
Honey walnut shrimp
Spring rolls
Broccoli-and-beef 
Some native Chinese people may have never even heard of these overseas dishes.
To be fair, there are still a few famous authentic Chinese dishes overseas, such as: 
Mapo Tofu
Dumplings
Sweet and sour soup
Kung Pao chicken
However, it's likely that they're made differently to suit foreigners' taste buds. For example, meat that is supposed to be pan-fried in China is deep-fried overseas. In addition, some other dishes may not be as spicy as they are in China, and are more likely to be sweet. 
It's interesting to see how much food can change culturally and how people's perception of another country's cuisine is rather limited.
3. Unique Chinese Foods
Some foods can only be found in one country, and these foods are closely connected to the regional cultures. As a language learner, it's important for you to be familiar with these dishes because it will show how well you know the native culture! Here are a few unique Chinese cuisine staples that you should know about.
A- Coke-Braised Chicken Wings – 可乐鸡翅 (kě lè jī chì)
This is a unique finger-licking Chinese dish, taking advantage of Coke's sweetness and using soy sauce to turn it into a savory-sweet BBQ-style sauce. A true reinvented foreign Chinese food! If you ever get the chance to try this dish, don't miss it! It possesses a unique deliciousness that you'll never get to try anywhere else. 
B- Fish-Fragrant Eggplant – 鱼香茄子 (yú xiāng qié zi)
Although this dish has "fish" in the name, there's no fish at all in the ingredients! 'Fish-fragrant' is a unique Chinese spice from Sichuan cuisine that offers a good combination of spicy, sweet, and sour flavors. The famous Doubanjiang, a typical Sichuan spicy sauce made from fermented soybeans, is the essence of this whole dish. It will definitely bring your taste buds to another level of spiciness!
C- Mooncake – 月饼 (yuè bǐng)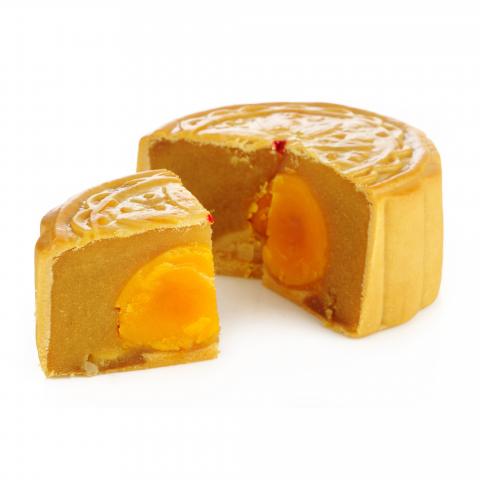 Mooncakes are shaped just like how they're named—a moon, indeed!
Mooncake is a traditional Chinese dessert that's usually eaten during the Mid-Autumn Festival. This is when the moon is in full shape, symbolizing united families. 
Mooncakes have a soft pastry on the outside and some sort of sweet paste on the inside. They're named after the moon because of their shape. The typical fillings for mooncakes are red bean paste, lotus seed paste, and taro paste, though there are many more depending on the region.
D- Malatang – 麻辣烫 (má là tàng)
Malatang is a famous Chinese street food that many people consider to be a part of their childhood memories. If you were to ask any Chinese adult if they regularly ate Malatang during their school years, the answer would probably be yes. Malatang is a mixture of different meats and veggies that's cooked quickly in a spicy sauce; some regions serve this dish with sesame paste in it.
E- Youtiao – 油条 (yóu tiáo)
Youtiao is a deep-fried stick of dough. It's crispy on the outside with a golden crust, but soft and chewy on the inside. This has been one of the most popular Chinese breakfast dishes for decades, and Chinese people love to couple Youtiao with a bowl of fresh soy milk. It's as if they were made for each other.
F- Sweet Rice Dessert Dumplings – 汤圆 (tāng yuán)
Sweet rice dessert dumplings are made with glutinous rice flour on the outside, which makes the texture incredibly soft and chewy with a natural sweetness. The filling can vary, though the most common ones are black sesame paste and red bean paste.
4. Food-Related Vocabulary
Now that we've whetted your appetite, it's time to look at some Chinese cuisine vocabulary. We'll show you the most important words for food and cooking, and give you some practical phrases for ordering food in a restaurant. 
| | |
| --- | --- |
| Food | 食物 (shí wù) |
| Rice | 米饭 (mǐ fàn) |
| Noodles | 面条 (miàn tiáo) |
| Chopsticks | 筷子 (kuài zi) |
| Bowl | 碗 (wǎn) |
| Spoon | 勺子 (sháo zi) |
| Cook | 做饭 (zuò fàn) |
| Ingredients | 食材 (shí cái) |
In Chinese: 开饭了。
Pinyin: Kāi fàn le. 
In English: "The meal is ready to serve."
In Chinese: 这道菜实在是太好吃了。
Pinyin: Zhè dào cài shí zài shì tài hǎo chī le. 
In English: "This dish is truly delicious."
In Chinese: 这道菜可真是色香味俱全啊。
Pinyin: Zhè dào cài kě zhēn shì sè xiāng wèi jù quán a.
In English: "This dish has it all: a nice appearance, delicious smell, and taste."
In Chinese: 这道菜可以不放辣吗?
Pinyin: Zhè dào cài kě yǐ bú fàng là ma? 
In English: "Can you please not make this dish spicy?"
In Chinese: 我今天打算做一些家常菜。
Pinyin: Wǒ jīn tiān dǎ suàn zuò yī xiē jiā cháng cài. 
In English: "I am going to make some regular homemade dishes."
In Chinese: 我们可以分开付吗?
Pinyin: Wǒ men kě yǐ fèn kāi fù ma? 
In English: "Can we pay separately?"
In Chinese: 我可以看一下菜单吗?
Pinyin: Wǒ kě yǐ kàn yī xià cài dān ma? 
In English: "May I see the menu?"
5. Bonus: Simple Recipes to Make Authentic Chinese Food at Home
Now, let me share with you the secret Chinese food recipes for two classic dishes. These are comfort food dishes that every single Chinese family just has to cook once in a while. They're easy and quick to make, and most importantly, they offer the deliciousness of an authentic home-cooked meal! Trust me, if you ask any native Chinese person, these dishes are the taste of home.
A- Authentic Chinese Recipe #1: Stir-Fried Tomatoes and Eggs:  西红柿炒鸡蛋 (xī hóng shì chǎo jī dàn)
Ingredients:
6 eggs
4 tablespoons oil
1 teaspoon minced ginger
3 tomatoes
2 tablespoons soy sauce
2 teaspoons sugar
2 tablespoons ketchup
Sliced green onions or cilantro for garnish
Salt
Steamed rice or noodles, for serving
Step 1
Beat the eggs well with salt, mixing the yolks and whites perfectly. Pour oil into the pan, heat it up, and pour the eggs in smoothly. Once the eggs have taken a solid shape, quickly stir-fry them into pieces and take them out of the pan.
Step 2
Cut an X into the tomatoes' skin and boil them in hot water until the skin can be taken off (a process called blanching). It's also fine to leave the skin on if desired. Then cut the tomatoes into slices.
Step 3
Add ginger into the pan and stir-fry it a little with the oil left in the pan. Use the same pan to stir-fry the tomatoes for about 3-5 minutes until aromatic and the liquid has evaporated a little. Add ketchup, soy sauce, and sugar.
Step 4
Add eggs into the stir-fried tomatoes and stir them occasionally for the tomato juice to be absorbed into the eggs. This should take about a minute.
Step 5
Add some salt to taste. Top with the sliced green onion or cilantro, and serve with steamed rice or noodles.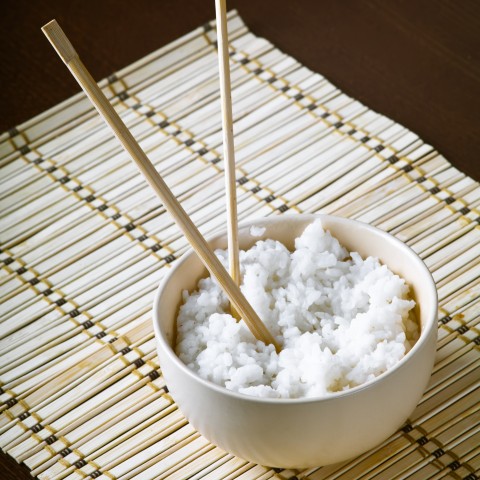 Find a recipe that can perfectly marry that bowl of rice of yours!
B- Authentic Chinese Recipe #2: Chinese Stir-Fried Shredded Potatoes: 炝炒土豆丝 (qiàng chǎo tǔ dòu sī)
Ingredients:
3 russet potatoes
1 medium carrot
1 green bell pepper
3 tablespoons chili oil (or vegetable oil)
2 tablespoons soy sauce
1 tablespoon any type of vinegar
1 tablespoon minced garlic
1 tablespoon minced ginger
1 teaspoon Sichuan peppercorns
A pinch of red pepper flakes
Sugar to taste
Salt to taste
Step 1
Shred the potatoes and put them in a bowl of cold water. Soak them for at least 20 minutes to get rid of starch (the longer, the crunchier).
Step 2
Cut the carrot and bell pepper into thinly shredded slices, just like the potatoes.
Step 3
Remove the potatoes from water and heat the chili oil in a pan on medium-high heat. Add the Sichuan peppercorn and stir-fry it until very aromatic. Drain the Sichuan-peppercorn-flavored oil in a bowl and remove the peppercorns from the pan.
Step 4
Add the Sichuan-peppercorn-flavored oil back into the pan and add the minced garlic, ginger, and red pepper flakes. Stir-fry them altogether until aromatic. 
Step 5
Add the shredded potatoes, carrot, and bell pepper and cook for about 2 minutes over high heat until all ingredients are cooked but crispy on the outside.
Step 6
Add the soy sauce and vinegar and mix well. Lastly, add some sugar and salt to taste.
6. Conclusion
Are you still hanging in there? Or has your stomach started growling and your mouth watering? If you're craving some great Chinese food right now, make sure you check the authenticity of any Chinese restaurant you plan on visiting. You want only the best! 
Food represents a country's culture, so make sure you get familiar with these typical Chinese dishes. Whether you're a conscientious foodie or a hardworking Chinese learner, ChineseClass101.com is always honored to open the magical gate to the Chinese language and culture for you. 
Here, you'll be presented with fun and professional resources to help you learn the Chinese language. Our lessons, taught by native Chinese speakers, are designed to make you feel as though you were walking right into China! Why not create your free account today to give it a try?