One of China's most popular holidays around the world is the Dragon Boat Festival. The Dragon Boat Festival seeks to commemorate the suicide of Qu Yuan, a heroic poet. While a bit dark, the Dragon Boat Festival history is a unique facet of Chinese culture as a whole.
At ChineseClass101.com, we hope to make learning Chinese both fun and informative, especially when it comes to the culture and the history behind it. Any successful language learner can tell you that this is a vital step in mastering a language.
That said, we hope you enjoy learning about the Chinese Dragon Boat Festival with us!
1. What is the Dragon Boat Festival?
The Dragon Boat Festival is a Chinese traditional festival to commemorate a hero named Qu Yuan.
Qu Yuan was a politician and poet who lived two thousand years ago. He had been a court official in the State of Chu. He was very loyal, but the King believed the words of the treacherous instead and exiled him. Feeling humiliated, he jumped into a river on May 5 to end his life. It is said that people missed him greatly after his death. They began boating on the same river and this activity gradually evolved into Dragon Boat racing.
2. When is Dragon Boat Festival?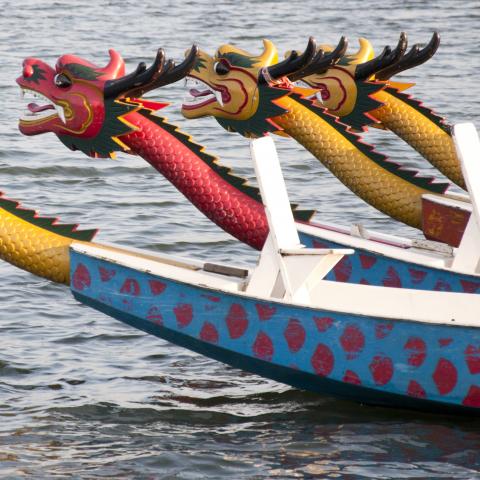 So, when is the Dragon Boat Festival?
Each year, China celebrates the Dragon Boat Festival on the fifth day of the fifth month of the lunar calendar. For your convenience, here's a list of this holiday's date on the Gregorian calendar for the next ten years.
2019: June 7
2020: June 25
2021: June 14
2022: June 3
2023: June 22
2024: June 10
2025: May 31
2026: June 19
2027: June 9
2028: May 28
3. Reading Practice: Chinese Dragon Boat Festival Traditions
How do the Chinese celebrate the Dragon Boat Festival? Read the Simplified Chinese below to learn about Chinese Dragon Boat Festival traditions (including Dragon Boat Festival food!), and find the English translation directly below it.
—
说到赛龙舟,这是一项非常受欢迎的传统竞技。龙舟就是小船,赛龙舟就是划船比赛。比赛的时候,每个穿上安排25名船员,由其中一人指挥,2人敲鼓,其他人齐心协力,力争最快划到终点。赛龙舟最吸引人的是它热闹的气氛,龙舟上鼓声震天,喊声不绝;两岸围观的观众也络绎不绝。
而在端午节一定要吃的食物当然是粽子了。传说屈原跳江后,人们不忍心他的躯体被江河里的鱼虾吃掉,便做了很多带馅儿的团子撒到水里喂鱼——这就是粽子的由来。那么粽子是什么样的呢?最里面是枣、豆沙等做成的馅儿,由浸泡好的糯米包裹,最外面再包上粽子叶。煮好以后剥掉粽子叶,蘸白糖吃。
古时候人们认为端午节这天在家门口悬挂艾叶能避邪气。现代科学发现,艾叶的确能起到杀菌消毒、预防瘟疫流行的作用。
—
The dragon boat race is a very popular tradition. Dragon boats are small boats, and the dragon boat race is a boating race. There are twenty-five members on each boat: one in command, two playing the drums, and the rest making rigorous efforts to be the fastest to reach the finish line. What attracts people most is the atmosphere of the race. On the dragon boat, the drums sound like thunder, and the crew members' shouts are never-ending. On both sides of the river bank is an endless stream of spectators.
During the Dragon Boat Festival, you must not miss out on eating rice dumplings. Legend says that after Qu Yuan jumped into the river, people didn't want his body to be eaten by river fish; they made many dumplings with fillings and threw them into the river to feed the fish. This is the origin of the rice dumpling. So, what does a rice dumpling look like? Fillings such as jujube, red bean paste, or others are put inside soaked glutinous rice, and the rice is wrapped in bamboo leaves. After boiling, you can peel off the leaves and dip the rice dumplings in sugar to eat them.
In ancient times, people believed that hanging wormwood leaves on the door of their home could keep evil away. Modern science has found that wormwood leaves can sterilize and prevent plague infection.
4. How Traditions Relate to Qu Yuan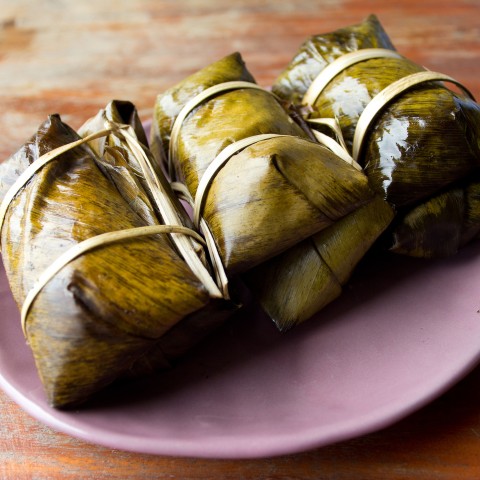 Which customs in the Dragon Boat Festival (China) commemorate Qu Yuan?
The Dragon Boat Festival itself is a festival to commemorate Qu Yuan. The customs related to Qu Yuan include the dragon boat race and eating rice dumplings.
5. Useful Vocabulary for the Chinese Dragon Boat Festival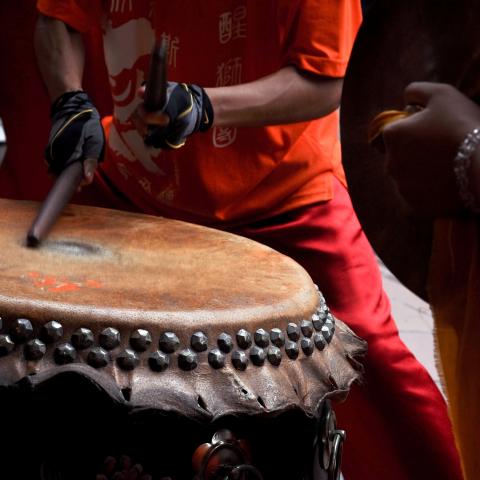 Here's some vocabulary you should know for the Chinese Dragon Boat Festival!
端午节 (Duānwǔ Jié) — Dragon Boat Festival
屈原 (Qū Yuán) — Qu Yuan
龙舟赛 (lóngzhōu sài) — dragon boat race
龙舟 (lóngzhōu) — dragon boat
糯米 (nuòmǐ) — glutinous rice
锣鼓 (luó gǔ) — gongs and drums
雄黄酒 (xiónghuáng jiǔ) — realgar wine
粽 (zòng) — rice dumpling stuffed with meat
划龙舟 (huá lóngzhōu) — row a dragon boat
甜粽 (tiánzòng) — sweet rice dumpling
To hear each of these vocabulary words pronounced, check out our Chinese Dragon Boat Festival vocabulary list. Here, each word is accompanied by an audio file of its pronunciation.
Conclusion
What do you think of the Dragon Boat Festival in China? Does your country have a similar holiday or festival? Let us know in the comments!
To learn more about the culture in China and the Chinese language, visit us at ChineseClass101.com! It's our aim to make learning Chinese both fun and informative, and to ensure that every learner can master the language. We offer an array of useful learning tools, from insightful blog posts like this one to free Chinese vocabulary lists. You can also discuss lessons with fellow Chinese learners on our community forum, and upgrade to Premium Plus to take advantage of our MyTeacher program!
We hope you took away something valuable from this lesson, and that you feel more knowledgeable about this facet of Chinese culture. Know that your hard work will pay off, and you'll be speaking Chinese like a native before you know it!